My new book,
Funded and Free
, that I co-wrote with
Casey Graham
, officially released
on Sunday
.
We are so FIRED UP that we've declared today, August 18, 2010, a NATIONAL "Funded and FREE" HOLIDAY!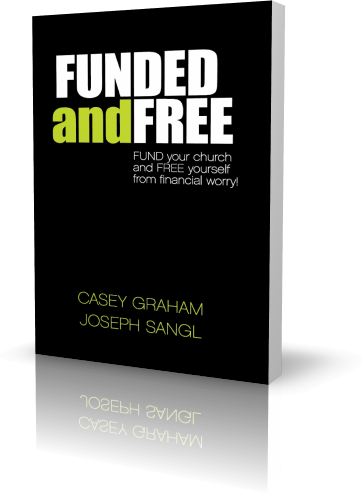 FUNDED and FREE was written to help church leaders FUND their vision and FREE themselves of financial worry!   This book contains 50 chapters of practical and relevant teaching regarding the topics of Giving, Budgeting, Capital Campaigns, Personal Finances, and Church Financial Management.
Since we are in a festive "National Holiday" mood, we are excited to offer Chapter One absolutely free – "Understand 5 Reasons People Give" – which you can obtain HERE.
It is our prayer that this resource will help thousands of leaders fund their vision. In fact, we are SO FIRED UP that we are also offering an unbelievable one-day only sale TODAY, August 18th, on National "Funded and Free" Day – FIVE BOOKS for $50 – that is 50% off – by following

THIS LINK

!
If you are a church leader, grab some copies for your team.     If you are not a church leader, grab some copies for your church leaders!
Don't miss your chance to take advantage of this special National Holiday sale!